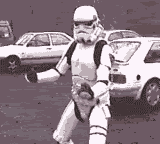 March 25, 1977. A day which will live in infamy.
That's right young
Padawans
, 33 years ago on this day, the original Star Wars movie was released. A movie everyone should see, and probably has, made George Lucas an insanely rich man and spawned two sequels and three prequels. The originally trilogy is in my opinion the best of all time. Kevin Smith, one of my favorite directors and avid Star Wars fan agrees:
He includes Star Wars references in most of his movies. Imitation is the ultimate form of flattery. Lucas even added a scene in one of his prequels as a response to Smith's "Jedi Politics":
A slightly stonier version:
The movie and it's characters influenced people of all ages, from every walk of life. Chances are, even if you're one of the deprived souls who haven't seen any of the Star Wars movies, and even if you still refuse to crawl from underneath that rock you reside under, you have probably atleast heard lines from the movies and know some of it's characters.
That is by far one of the most famous lines in movie history and at the time a shocking twist. Here's my favorite character from the movies, the Mr. Miyagi like, Master Yoda dropping some wisdom on Luke Skywalker:
He might not look like much, but watch that little toad kick some dark side ass:
Weird Al even wrote a song about the muppet:
Clearly and understandably, everyone wanted to be a part of this fictional universe:
But not just nerds. Even Hitler thought he was a Jedi:
Well folks, I could go on all day about this movie franchise and show you a ton of clips. These are just several of my favorites. I hope you sit down and enjoy some of these classics soon. If you want a more in depth look at the Star Wars universe, start
here
. Enjoy your day, and "may the force be with you".